Bunkhouse Productions is proud to represent Barrett Joyner for corporate speaking and consulting engagements.
Barrett's unique style of "corporate comedy" makes his presentations ideal for sales meetings, general company meetings as well as conference key notes and after dinner presentations.
For example, in his presentation on Leadership, the Mayberry Electric Way, Barrett discusses a leadership process built on the leadership philosophies of Andy of Mayberry and Jack Welch of General Electric.
This presentation focuses on increasing the productivity and profitability of an organization with a "tip of the hat" to the Sheriff of Mayberry and the CEO of GE.
Barrett's background provides a rich managerial experience that gives real world validity to his results through relationships philosophy.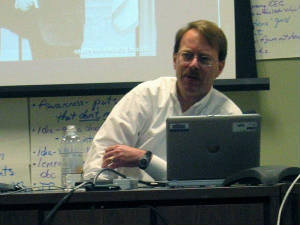 Barrett has over two decades of leadership and management experience in enterprise software companies, including 16 years at SAS, the world's largest privately held software company. Barrett's roles at SAS included management positions in sales, marketing and executive management. For 8 years Barrett served as VP of Sales and Marketing and 2 years served as President of SAS North America, contributing to the extensive growth of SAS with annual revenues of over $1 billion. SAS Institute is world renowned as an "employer of choice" having been named in Fortune Magazine's top 10 companies to work for.
Barrett's speaking topics, which are tailored to fit the unique needs of each venue, include the executive's role in building productive and fully aligned work teams. Through his work, Barrett has developed a methodology and process for organizational alignment and presents these concepts in a way that not only makes audiences think, it makes audiences laugh.
Barrett's presentation on "Successful Work Team Alignment" is a proven, thought provoking and humorous look at building work teams in the business environment.